FURLOW
We see Furlow only twice, and yet she leaves a permanent mark in our memory and imagination, thanks to her unforgettable personality, the product of both writerly genius and the outstanding performance of the actress that impersonates her.
The mechanic from Dam-ba-da is a study in contrasts: the unlovely appearance of an overweight, under-cleaned and overall unkempt person, with an unlit cigar stuck between her lips, goes hand in hand with an unsophisticated and often slurred speech typical of the less refined strata of society, and these details bring both viewers and opponents to underestimate her. Yet, under the coarse exterior lurk both a fine intelligence and a shrewd mind: adding a very flexible morality to the mix, the result is an ambiguous character that sometimes borders on the dangerous.
Furlow's only priority lies with herself, and to that goal she does not hesitate to create allegiances with the worst kind of subjects, which she betrays without qualms when a better opportunity comes over the horizon: in the double episode INFINITE POSSIBILITIES, for example, we learn she made a bargain with the Charrids, yet she kills a good number of them while appearing to side with our heroes, and she justifies it, in the most innocent-looking way, with the need for credibility before the 'good guys'. She is indeed shameless and bold at the same time.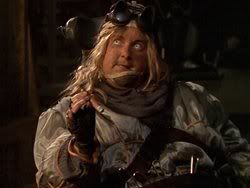 It's almost impossible not to feel a flash of sympathy for Furlow, despite these premises and the role she plays in the show: once we overlook the instinctive outrage for her actions, we understand she's moved by an excellent drive for survival, the kind that manages to land her always on her feet - not a simple achievement considering the difficult environment where she lives, the shady world at the border between law and anarchy.
The contrast that is Furlow is therefore mirrored in the viewers' mixed reaction, who alternate between loathing and admiration, disapproval and respect: a further indication of the depth and lack of stereotyped representations that are at the basis of this ground-breaking show.
These are not the only remarkable women to grace Farscape's tapestry, of course, just the ones with longer screen-time and impact, because this great show does not lack notable female figures, like Tech Gilina, sweet and yet possessed of a very special kind of courage, or Empress Novia, shrewd political manipulator, or Jenavian Chatto, ruthless and resourceful spy. And again the evil Natira, collector of eyes, or double-dealing Raxil. The list could go on and on for quite a while...
What these characters share is the freshness of the approach in designing and portraying them, which mirrors the daring attitude of Farscape's creators in picturing peoples and situations that stand well outside the accepted (and sometimes stale) norm of serial tv. And that is part of the magic that draws so many spectators to this awesome story.